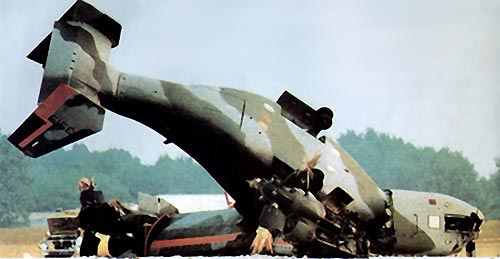 The V-22 Osprey program is one of the largest scandals in the U.S. military. Some 40 years ago, the Marines expressed a desire for an airplane that could land and take-off vertically like a helicopter. Several prototypes failed, including the latest model - the V-22 Osprey. However, a political caucus developed in the U.S. Congress to support funding. They joined forces with major contractors, Boeing and Bell, to keep the program going and hired retired Marine Generals to help hide flaws.
Unfortunately, the media lacks experts who understand how corrupt the weapons' procurement process has become. Reporters are happy to submit news releases from Bell-Boeing as news reports, and quote lies as facts. Those that refuse are reassigned by editors after a deluge of complaints from Marine Generals. As a result, G2mil produced a dozen articles over the years about this scandal. These are posted here along with insightful reports and news stories.
Jan 2015 - Marine Commandant Amos Retires and Joins Lord - V-22 parts maker
Oct 2014 - Israel Cancels V-22 Order - gift declined
Jul 2014 - Your Periodic Reminder that the V-22 is a Piece of Junk
Jan 2014 - Heat From F-35, MV-22 Continue to Plague Big Deck Amphibs
Nov 2013 - Are the Marines Faking Reliability - false status reports
Apr 2013 - CV-22 is Ultra-Expensive to Fly - $83,256 an hour!
Sep 2012 - CV-22 Accident Report Distorted - says a V-22 expert
Aug 2012 - V-22 Class A Mishaps - a dozen hidden mishaps (nine added in 2014)
Jul 2012 - U.S. Brass Applied Pressure - Air Force General demanded coverup
Jul 2012 - Is the Osprey safe? - not when it hovers
Jul 2012 - Four Recent V-22 Mishaps - no mechanical failures or pilot errors
May 2012 - CV-22 Crash Caused by Flight Manual - bogus HOGE chart
Mar 2012 - Flying the V-22 - an honest assessment from a retired V-22 pilot
Feb 2012 - Bell Offers New Medium Lift Helicopter - gave up on tiltrotors
Dec 2011 - Tiltrotor Costs Soar - up 61% in three years
Oct 2011 - Osprey Down - Marines shift story on safety record
Aug 2011 - Crash-Prone Hybrid Copter's New Mission - hauling the President's peeps
Jul 2011 - Bell Abandons its Civilian Tiltrotor - dumps a bad idea
Jun 2011 - Demand Drives Chinook Production to 2020 - no new V-22 orders
Apr 2011 - Former Marine Commandant Conway Joins Textron - deferred compensation
Jun 2010 - V-22 Osprey Downblast - is demonstrated by accident
Apr 2010 - The V-22 Disaster - end it now
Sep 2009 - V-22 Osprey Tiltrotor (pdf) - new congressional report
Aug 2009 - Finding MV-22s - broke down or not built
Aug 2009 - V-22: It's Time to Move On - Rotor & Wing says end it
Jul 2009 - 40 MV-22s are Missing! - where are they?
Jun 2009 - Congressional Hearing - Generals answer some questions
Jun 2009 - Congressional Hearing - Generals refuse to answer questions
Jun 2009 CRS Report - 181 V-22s procured, none in combat zones
Jun 2009 - GAO Report (pdf) - poor V-22 readiness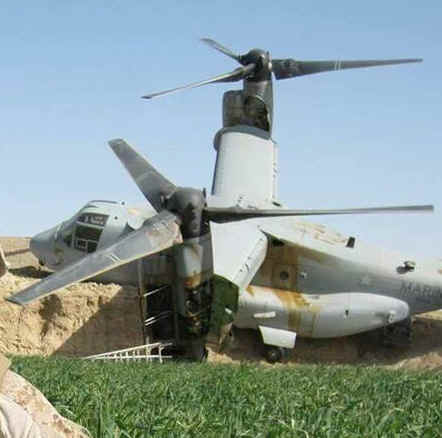 Jun 2009 - V-22 Lies Exposed - Congressional hearings
Mar 2009 - V-22 Alternatives - after shipboard failures
Nov 2008 - Why the V-22 is Still Unsafe - numerous flaws
Sep 2008 - V-22 Sticker Shock - a high price for low performance
Jul 2008 - V-22s Fail in Iraq - a successful cover-up
Feb 2008 - Why Tiltrotors Fail - a flawed design
Oct 2007 - Is there a Case for the Tiltrotor? - America's top expert says no
Oct 2007 - Giving the Osprey More Firepower - it needs it
Sep 2007 - A Flying Shame - a Time magazine expose
Jun 2007 - Internal USMC Message - about V-22 flaws
Mar 2007 - Commandant Says V-22s Will Crash - ready to battle critics
Nov 2006 - V-22 Videos - the Osprey wobbles
Mar 2006 - The Flawed V-22 Osprey and the Marine Corps - Col. Riccioni's report
Nov 2005 V-22 Fails OPEVAL - a cover-up ensues
Sep 2005 - Tiltrotor Comparison (pdf) - by rotorcraft expert Nic Lappos
Jun 2005 - NATOPS extracts (pdf) - warnings from the flight manual
Oct 2004 - V-22 Costs Soar - costs four times more than helos
July 2004 - Osprey or Albatross - the V-22 scam
Jan 2004 - The V-22 Continues to Fail - but still funded
Dec 2003 - Why the V-22 is Unsafe - IDA analysis
Aug 2003 - Safety Survey after OT-IIE - hidden from DoD leaders
Jun 2003 - Waiting for the Next V-22 Crash - soaring costs too
Nov 2002 - Col. Harry Dunn Letter - to President George Bush
Oct 2002 - V-22 Update - this scandal just grows and grows
June 2002 - An Expose' of V-22 "Facts" - Col. Dunn refutes the program manager
Apr 2002 - Keeping the V-22 Alive - the biggest scandal in US military history
Jan 2002 - Red Ribbon Panel Study - on the Marana accident
Jul 2001 - MV-22 Lies - keeping a failed program funded
Feb 2001- The V-22 Fiasco - too dangerous for combat
©2014 www.G2mil.com