News about V-22 operations in Iraq have been kept secret, with only some positive spin stories released. The Commandant of the Marine Corps visited Iraq to check on progress and was upset when he bluntly told a Reuters reporter that the Corps was "suppressing news" about the V-22's performance, saying: "It's just that we don't want to overpromise and underdeliver."
There had been no official announcement of the V-22's major engine problems, which is not surprising since the Corps was about to ink a multi-year contract for 167 more V-22s. The Corps had put out a glowing report on the V-22 in Iraq on Jan. 23, although it didn't mention the squadron had a dozen highly experienced Boeing tech reps to help Marines fix things, or that the decades old Marine helos that have been Iraq for years had a higher ready rate.
A few months later, V-22 program manager Col. Matthew Mulhern stepped in deep doo doo with remarks at an industry forum soon after the first V-22 squadron returned from Iraq. He said the V-22s engines wore out too fast and lacked the power needed by the V-22. Aviation Week posted an article, but it was promptly removed, probably after Boeing complained. A copy can be found here.
He admitted that six engines had already been replaced, and later indicated that all engines will likely be replaced after less than seven months in Iraq. Mulhern hinted the V-22 may use the new engine destined for the new CH-53K. That will provide more power, which the V-22 desperately needs since its small, twisted proprotors provide only one-quarter the lift as traditional helo blades can provide. However, they just began building prototypes of that engine, and testing will not begin until 2009. The CH-53K will not enter service until 2013, so this engine would not be ready for V-22 testing until most V-22 are already delivered. Then a new engine will require an entire V-22 test program and certification, and the software changes will be immense.
Nevertheless, the Corps went ahead and signed a contract to buy 167 more V-22s over the next five years. Someone should be arrested for that decision. Even more outrageous is the Corps wants to let Rolls-Royce off the hook for producing a flawed engine. The Corps paid over $2 million per engine because RR guaranteed them with "power by the hour." Now the engines are failing, V-22 readiness is poor, and Marines must devote thousands of additional man hours for closer inspections, and swap engines frequently.
Does RR apologize? No. It tells the Marines it wants out of the "power by the hour" commitment because it is not making money. The British owned RR is making record profits off of the war in Iraq, stuck the Corps with overpriced bad engines, and now has the audacity to tell the Corps it wants out of the deal that it designed. I guess this is why they hired the former head of Marine Air, LtGen Fred McCorkle, shortly after he saved the V-22 from termination and retired. Ironically, Col. Mulhern won an award in 2004 for crafting this "power by the hour" deal.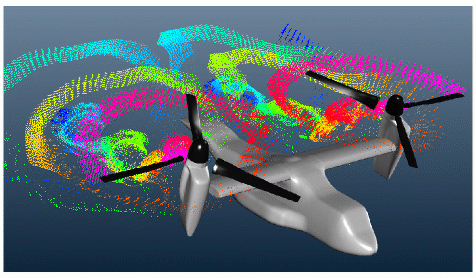 I suspect RR will be let off the hook because it threatened to blame the problem on the tiltrotor design. The V-22's engine is a variant of those used by the new C-27J and C-130Js. They have reported no problems. The problem is likely the V-22's excessive downwash, which is thrice that of similar size helos. Moreover, helicopter blades are mounted on the fuselage and blow dust and debris outward, while the V-22's side by side blades blow into each other, creating a tornado effect.
The image at right was produced by NASA in 1993 to illustrate this problem. Rotor wake structure visualized by releasing particles every 15th time-step from points aft of the inboard and outboard tips of one of the rotor blades. Particles colored by time of release for three revolutions of the rotor. This can also be seen in the University of Maryland computer simulations and in this rare video of a V-22 landing on an unimproved surface, and another video of a V-22 sandblasting.
Here is a video clip showing a trained Marine HST struggle trying to hook-up a stripped down HMMWV. This is why V-22s rarely perform external lift. That video also shows that V-22s are difficult to maneuver in the hover mode. Here are some recent pictures from Iraq that show the heavy V-22 downwash.
From afar, this may seem normal for helos in the desert, but the difference is where the dust and debris is thrown. Helos push it away, while tiltrotors push half of it away and half of it into the cabin and other engine. In addition, it blows ground crews around making external lift operations difficult and dangerous.
As angry Marines return from Iraq with horror stories, everyone will be told that is "old news" because the problem is not with the aircraft design, but just the engines, and a solution is at hand. Complaints about poor lift performance will be explained as the result of "weight gain." V-22 salesmen act surprised that all the essential components left off for OPEVAL caused weight gain when finally added. They claim this will be addressed by a new more powerful engine - that doesn't exist. Meanwhile, production will ramp up as more V-22s reach their short service life of four years and are placed in storage. Recall the prediction in the USMC message from June 2007 about V-22 critical maintenance issues:
OVER THE PAST 9 MONTHS V-22 BLOCK A AIRCRAFT READINESS HAS BEEN AN AVERAGE OF 47.8% MISSION CAPABLE AND 34.9% FULL MISSION CAPABLE WHILE BLOCK B AIRCRAFT READINESS HAS BEEN ON AVERAGE 79.3% MISSION CAPABLE AND 62.1% FULL MISSION CAPABLE.
BASED ON THE HISTORICAL DATA AVAILABLE, THERE IS A REASON FOR CONCERN WITH REGARD TO AIRCRAFT READINESS AND AVAILABILITY AS OUR BLOCK B AIRCRAFT BEGIN TO REACH THE FLIGHT HOUR THRESHOLDS WE HAVE ON OUR BLOCK A AIRCRAFT
So the engines don't work, no replacement is possible due to the nacelle size, yet the Corps said all is well and signed a five-year contract for 167 more. This program is the biggest scandal in the US military. At least the Rolls-Royce won't lose money after all. DoD Contracts for March 31, 2008 include:
Rolls-Royce Corp., Indianapolis, Ind., is being awarded a $20,627,930 modification to a previously awarded firm-fixed-price contract (N00019-07-C-0060) for the procurement of Power By The Hour® maintenance support, including program management, field engineering, and site specific logistical support at V-22 Osprey operating and production sites for the U.S. Navy $17,495,778; 84.8 percent) and the U.S. Air Force ($3,132,152; 15.2 percent). Work will be performed in New River, N.C., (74.9 percent); Kirtland AFB, N.M., (7.4 percent); Hulburt Field, Fla., (7.4 percent); Indianapolis, Ind., (5.2 percent); Patuxent River, Md., (3.6 percent) and Amarillo, Texas (1.5 percent), and is expected to be completed in Dec. 2009. Contract funds in the amount of $19,476,930 will expire at the end of the current fiscal year. The Naval Air Systems Command, Patuxent River, Md., is the contracting activity.
So a $20 million bonus so far this year to RR for sticking the Corps with bad engines. Keep in mind the Corps paid a much higher price per engine because of this "firm-fixed-price" maintenance guarantee.
RR signed a bad deal, so it should make less profit on the V-22 than it hoped. Business is business, sometimes you don't make huge profits, although their overall profit margin went up 23% last year. I suppose this is why they hired three former members of the Joint Chiefs, the former head of Naval Air, and the former head of Marine Air, all as "outside directors" meaning they don't have to show up for work, but may be called upon to make some phone calls and slap some backs after a few drinks. While the engine failure issue was ignored, V-22 salesmen donned Marine Corps uniforms to spin out other lies:
Spin #1 - The V-22 proved itself in combat.
The V-22 was stationed at the most secure location in Iraq, a massive Marine airbase in a remote desert. It was never assigned any mission where it might come under fire. which it why it never flew into Baghdad. The squadron members assert that they may have been fired upon twice while flying fast at higher altitude, but no one can really consider that a "combat test." Since the USA is engaged in a global war on terror, V-22s flying around the USA must be involved in combat ops too.
The Marines invented a new mission for the $100 million V-22 in Iraq -- aerial scout. That could done by a $100,000 civilian aircraft, but this allowed V-22s to rack up lots of safe flight hours without straining the aircraft by flying into LZs or carrying cargo. In nearly all missions, V-22s operated as airplanes with rolling take-offs and landings flying between airbases with hard runways. Yet even this light duty caused the V-22s to fail prematurely. This may be why Bell recently gave up on a smaller tiltrotor for the civilian market, turning the long, long delayed BA-609 project over to Augusta.
Spin #2 - The V-22 had problems like all new aircraft.
The V-22 is older than the C-17. It first flew in 1989 and went into production in 1999. It is not a new aircraft. The V-22 continues to have serious problems because its basic design is flawed. (see previous G2mil articles linked below) Many critical parts are made from lightweight composites that last just a few months. This is why $100 million in spare parts were sent to Iraq prior to the squadron's deployment, and 10 highly experienced Boeing civilians sent to help maintain them, something not done with Marine helo squadrons. Nevertheless, the aging Marine helos had higher ready rates.
Spin #3 - The Corps devised a new tactic to avoid the deadly VRS conditions.
This new tactic is to approach very low and transition to the hover mode just as it touches down, like an airplane landing on a runway. This is good for flying in the open desert with great visibility, but not possible in mountainous and urban areas, and not a good idea in areas where insurgents ambush low flying aircraft.
Spin #4 - No transport helicopter has a forward firing gun, yet the V-22 will soon have one.
The V-22 was designed with a forward firing chin gun. Boeing earned millions to develop one by 1999, and published several stories of its successful testing in its "Tiltrotor Times." However, it was never mounted because its lack of pitch authority made accuracy difficult. Moreover, the V-22 is horribly overweight and eliminating the gun saved 1000lbs of empty weight.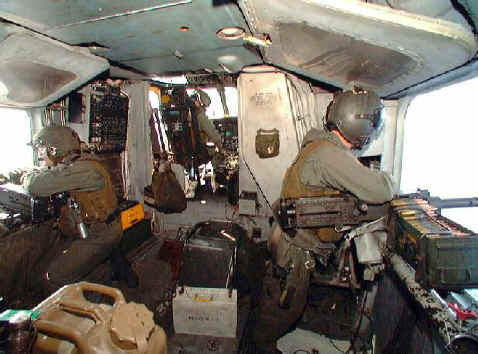 As V-22s came off the assembly line, some Marine Generals were unhappy by its lack of a gun. The program pretended it was never funded. They couldn't mount them on the sides since the rotors are in the way, and the windows far too small.
They finally mounted a 7.62mm machine gun on the rear ramp, the same one carried by Marine infantrymen. It has half the range and half the power of a .50 cal used by "legacy" transport helicopters. Ramp guns are difficult to employ since the ramp must be open, they block ingress and egress, and they have a very limited firing arc. Last year, Time magazine quoted a former Marine Commandant and a V-22 squadron commander who both said this was unacceptable.
The V-22 salesmen insisted that no other transport helicopter had a forward firing gun. This is true, but highly misleading. Here is a picture of a 40-year old CH-53D flying over Macadonia in 1999. Note the two .50 cals mounted on the doors with a wide angle of fire. According to V-22 promoters, helicopter pilots are stupid because they don't know how to avoid ground fire, so they need guns for self defense. The V-22 was supposed to replace all these ancient "Delta" helos by 2006. However, they remain in service because they are smaller than the V-22, yet can carry more payload and have greater range, not to mention excellent weaponry.
All American transport helos have the ability to fire .50 cals from their sides to cover most of the battlefield, really all since helos land in groups and cover each other. A group of V-22s with only small ramp mounted guns provide little suppressive coverage. They are restricted from landing within 250 feet from one another to avoid VRS, so several V-22s hitting an LZ at once may never happen anyway.
Bell-Boeing then announced they had suddenly developed a retractable belly gun. They distributed a computer generated image of their idea, pretending that it was an actual picture. They ignored the years of development required to integrate the hydraulics and software. They admitted four seats would have to be removed, and that it would add much dead weight, and that V-22s could not carry external loads with it installed. Of course the situational awareness of a crewman using a joystick and video screen to aim the thing was not addressed. However, they did admit the gun would have to be retracted upon landing. It takes over two minutes to unload a packed helo, and during this confusing time door gunners can provide excellent grazing fire as they sit on solid ground. As a result, the Marines may never buy the odd belly gun. The USAF might use it since their CV-22s operate alone and desperately need more firepower.
Spin # 5 - The critics are just wrong.
This is the standard response to any serious question about the V-22's failures. They don't want to answer the question. Marines are told the Corps is stuck with the V-22, so criticism is not helpful. This is a lie, the Corps can cancel the program at anytime. The Corps doesn't have to pay penalties if its leaders show some backbone. They can collect all the evidence of fraud over the years and meet with Bell-Boeing executives and tell them they are not getting a cent more, and if they want to fight, the Corps will turn the evidence over to the U.S. Attorney's office for criminal prosecution.
The CH-53K is a great program with great potential. It is the same size as the V-22, yet it can carry five times more payload, and has greater range. It can carry three times more troops, can carry three .50 cal machine guns, and can land safely with no engine power. It can even carry a HMMWV internally, or two externally, while the V-22 can't even carry an old jeep internally. The V-22 is 30% faster while in transit, yet it must land slower in the hover mode to avoid VRS, which can cause it to flip over.
This information upsets many people who cannot grasp how corrupt the U.S. military procurement system has become, and that it infects the senior leadership of the Marine Corps as well. Those who work in the program have made a comfortable living and don't want to feel guilty about profiting from this racket. Finally, Marines are proud of the Corps, and angry that it has become entangled in this mess and they must employ a clearly inferior and flawed aircraft..
Where are the V-22s?
Any reporter or Congressman that wants the truth need only ask the Corps for an accounting of the more than 110 V-22s that have been delivered. Where are they located and what is their status. The Corps now has three operating squadrons with 12 each, plus a small test squadron and a training squadron. This accounts for less than half the V-22s. Where are the rest?
This will infuriate Generals who will not comply or provide an absurdly confusing rationale. In reality, V-22s last around 1000 hours (around 4 years). By that time they have developed serious problems that are cannot be fixed, especially cracks in the composite wings and leaky hydraulic lines. When this happens, the aircraft is pushed into a hangar and replaced with a new one, which keeps the readiness rates artificially high.. This is not surprising when you see those huge tilting rotors at the WINGTIPS. Fatigue problems are why the U.S. military stop using wingtip fuel tanks decades ago. Oil leaks are so common that crews are never surprised when engines smoke during start-up as accumulated oil burns, as this video shows.
So where are half the new V-22s? They are broke down and in storage. When will the first V-22 deploy with a MEU aboard ship? No one knows since the Navy has refused to fully certify them as safe for shipboard ops. Finally, a V-22 nearly crashed from an engine failure in Iraq on June 21st. The initial Marine Corps report noted:
WHILE IN FLIGHT, PILOTS NOTICED THAT THE R/H ENGINE TORQUE WOULD NOT GO ABOVE 66 PERCENT. THE AIRCRAFT WAS UNABLE TO HOLD ALTITUDE, AND HAD TO MAKE AN EMERGENCY LANDING IN THE FIELD. AFTER REPLACEMENT OF THE ENGINE, A BOROSCOPE INSPECTION WAS CONDUCTED TO INSPECT THE ENGINE INTERNALLY. IT WAS DISCOVERED THAT COMPRESSOR BLADES WERE DAMAGED FROM POSSIBLE FOD INGESTION. A BOROSCOPE INSPECTION OF THE COMBUSTION CHAMBER SHOWED THAT THE LINER HAD BROKEN INTO PIECES. THESE PIECES ENTERED INTO THE GAS GENERATOR, CAUSING SIGNIFICANT DAMAGE.

INTERNAL FAILURE OF THE ENGINE CAUSED FOR A LOSS OF ALTITUDE CONTROL. THE AIRCRAFT WAS UNABLE TO STABILIZE OR HOLD AN ALTITUDE, AND WAS FORCED TO LAND. THIS COULD BE FATAL TO PERSONNEL ABOARD THE AIRCRAFT, AND CAUSE DETRIMENTAL DAMAGE TO THE AIRCRAFT. THE MISSION WAS ABORTED DUE TO THE FAILURE.
Carlton Meyer editorG2mil@Gmail.com
©2008 www.G2mil.com