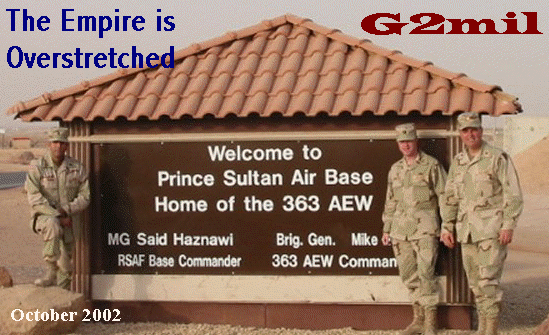 Editorial
In 1919, Joseph Schumpteter described ancient Rome in a way that sounds eerily like the United States in 2002:
"There was no corner of the known world where some interest was not alleged to be in danger or under actual attack. If the interests were not Roman, they were those of Rome's allies; and if Rome had no allies, the allies would be invented. When it was utterly impossible to contrive such an interest -- why, then it was the national honor that had been insulted. The fight was always invested with an aura of legality. Rome was always being attacked by evil-minded neighbors. The whole world was pervaded by a host of enemies, it was manifestly Rome's duty to guard against their indubitably aggressive designs."
As the American Empire grows, its overseas bases multiply. Since closing some Cold War bases in the 1990s, the US military has built dozens of new overseas bases. After tossing Iraqis out of Kuwait in 1991, the US military decided to stay in the Persian Gulf region and built massive facilities. See this link for an overview of CentCom Bases. US aircraft lost operating rights in Panama when Howard AFB was closed in 1999. However, the US has established four smaller bases in the region, each with about 25 US servicemen augmented by civilian contractors. The new bases are at Manta, Ecuador; Aruba, Netherlands Antilles; Curacao, Netherlands Antilles, and Comalapa, El Salvador. There is also a substantial military presence in Columbia, although most activity is hidden with the use of mercenaries. Finally, there are 550 GIs and 650 civilian employees at Soto Cano Air base in Honduras whose purpose is a mystery.
Adventures in the Balkans have secured permanent airbases in Tuzla, Bosnia and Taszar, Hungary. The war on terror has resulted in major airbases in Burgas, Bulgaria; Bagram, Afghanistan; Khanabad, Uzbekistan; and Manas, Kirgizstan, which is 620 miles from Afghanistan. This encirclement of China and Russia with permanent airbases has cooled their support for the "war" on terror. There are also dozens of small support groups in places like Pakistan, Egypt, Israel, Turkey and Greece. Plans for major new bases in Iraq are underway. While Americans with imperial aspirations love viewing maps of the world covered with American bases, the resources these outposts consume are depleting the US Air Force.
The value of all these new bases is debatable, but there is no question that the US Air Force is overstretched and must quickly trim excess bases overseas. Misawa AFB in far northern Japan no longer serves any purpose. There are 5200 US military personnel assigned to Misawa, along with 300 US civilian employees and 900 Japanese employees to keep just two F-16J squadrons forward-deployed. Japan has the most powerful Air Force in the Pacific and is no longer threaten by a Soviet invasion. The US military has five other major airbases in Japan. The small Navy detachment at Misawa can move to NAS Atsugi and any essential Air Force components can move to Yokota AFB, both near Tokyo. Since Misawa is also used by the Japanese military, it will not close and can reoccupied if the Russian bear ever becomes powerful and threatening. Meanwhile, moving those two F-16J squadrons elsewhere will save millions of dollars each year and free thousands of airmen for other duties.
On the other side of the globe, the Air Force has 2000 airmen stationed with the 85th Group at US Naval Air Station Keflavik, Iceland. They support an outdated air defense mission carried out by F-15 fighter aircraft rotating every 90 days to Iceland. No sane person believes the Russians are going to attack this island, so why keep 2000 airmen there? This is actually a US Navy base, so the Air Force can easily cut F-15 optempo by ending this outdated mission and sending those 2000 airmen elsewhere.
Two more outdated Air Force bases exist in northern Europe. The June 18, 2001 edition of "Aviation Week" revealed the many difficulties faced by US Air Force squadrons operating in Europe. The skies are so congested that fighter and strike training must be conducted elsewhere. This requires redeploying to bases in the Mediterranean and even North Africa, which costs money and separates airmen from their families. European based squadrons also must deploy to Nellis AFB in Nevada for realistic training at that huge instrumented range. This high optempo strains airmen and their families.
Since Congress is reluctant to spend taxpayer money overseas, base housing and facilities have deteriorated, although the Army Air Force Exchange plans to spend $100 million dollars in Germany to construct a huge shopping mall, movie theaters, a 1000-seat food court, and a 350-room hotel with parking. The Air Force plans to spend $500 million dollars in new construction to improve security at its European bases, and $200 million to expand Spangdahlem AFB, since the Germans announced that Air Force transports cannot share their busy Rhein-Main airport after 2005.
Meanwhile, the Pentagon wants to close excess Air Force bases in the USA to save money. The obvious solution is to move Air Force fighter-attack squadrons from northern Europe back to the USA, leaving some at strategic Aviano, Italy and Incirlik, Turkey, which are routinely augmented by squadrons rotating from the USA. Air Force fighter-attack squadrons should leave Spangdahlem AFB in Germany and RAF Lakenheath in England. Nearly 10,000 US military personnel and 4000 American, German, and British civilian employees are assigned to these bases to support just six fighter-attack squadrons. This will save the Air Force a billion dollars each year by cutting base operations in Europe and free base manpower for operational squadrons. The $200 million expansion plan for Spangdahlem can be canceled as it converts to an air transport hub and absorbs the 3000 personnel evicted from Rhein-Main.
Squadrons which relocate to the USA will not have to deploy to train as often, so family separation will be reduced while the Air Force save millions more dollars. The Air Force would also save millions of dollars each year with less overseas shipping of household goods, commissary and exchange goods, and base support items. Finally, pulling our of these bases will shift two billion dollars in annual US military spending to local communities in the USA. This is a win-win situation for everyone, except a few thousand Japanese, Icelanders, Germans, and British who will lose their jobs. This is much cheaper than closing domestic bases since the problems of base clean up and local economic redevelopment do not exist.
These airbases can remain as contingency bases, like Moron airbase in Spain and RAF Fairford, so squadrons can quickly deploy to defend our powerful allies, from non-existent enemies. American squadrons can still deploy to these bases to train with allies. The only opposition may come from imperialists who are infatuated with a mindless goal of keeping 100,000 GIs based in Europe and 100,000 based in Asia. If this is a problem, the Air Force can consolidate all its prisoners in Europe and Japan so jailed airmen can keep the stats up. The bigger threat are powerful foreign lobbyists and corporations which secretly fight to keep "their" bases open. Donald Rumsfeld faces many tough choices for redesigning the US military; this choice is simple. Pull all US Air Force fighter-attack squadrons and their support personnel out of Misawa, Japan; Keflavik, Iceland; Spangdahlem, Germany; and Lakenheath, England.
Carlton Meyer editorG2mil@Gmail.com
G2mil editorials may be freely distributed without permission
######################################################################
October 2002 Articles
Letters - comments from G2mil readers
Modern Infantry Squads - with a rocket and heavy rifle
V-22 Update - this scandal just grows and grows
The 6mm Optimum Cartridge - the ideal all-purpose round
2005 Base Closure Recommendations - navy bases
Iraq Military Guide - from GlobalSecurity.org
Chickenhawks - draft dodgers become warmongers
G2mil Library
Previous G2mil - September 2002 issue
Library Tour - visit G2mil's library
Library Entrance - members only
All material in G2mil Copyright 2002 G2mil, patents pending on some items. Links to www.G2mil.com are encouraged.