US infantry squads continue to employ World War I concepts with weaponry designed 40 years ago. All firepower is based on direct fire of weak 5.56mm bullets, with the exception of the awkward M203 40mm grenade launcher attachment. In addition, the rapid urbanization of the world means that most combat will occur in cities, which requires weapons with more punch, especially if an enemy wears modern body armor. Finally, the development of new electronic gear has added more weight for infantry squads to carry.
The only major advance occurred when the US Marine Corps purchased simple palm-size commercial "walkie-talkies" for every infantryman. The Army quickly followed with a helmet-mounted squad intercom, despite paranoid communication officers who insist that all nets must be covered with crypto. Brief squad level chat with very low power radios is unlikely to provide any intel to enemy forces.
The US Army uses ten-man squads with a squad leader, medic, and two four-man fire teams. Each fire team has a 5.56mm M249 light machine gun called the Squad Automatic Weapon (SAW) and three M-16 rifles, one with an M203 40mm grenade launcher attachment. In recent years, the Army unwisely adopted the M4 carbine (a mini M-16) with a shorter barrel that provides even less punch. The Army prefers ten-man squads to easily fit in a single armored personnel carrier or Blackhawk helicopter. The US Marine Corps uses the same organization, except with three fire teams to provide 14-man squads.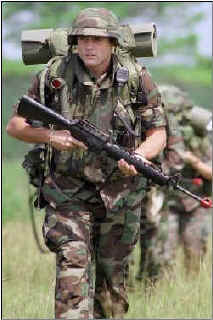 Three fire teams are difficult to control, yet four-man fire teams are too small. During peacetime "fully-manned" units are lucky to have 90% of their men, then take out the sick and injured, a deploying unit is lucky to have 80%. As a result, four-man fire teams go into combat with only 2-3 men. Therefore, the ideal squad should have two five-man fire teams. The extra riflemen will ensure that fire teams have 3-4 men on average. Planning for five-man rifle teams is better to "game" this system, and a method of keeping replacements on hand. However, three fire teams used by the US Marine Corps would result in 17-man squads. Even if only 14 are present, this is difficult for a squad leader to control.
Two five-man fire teams are ideal. Since one fire team normally provides a base of fire for an attacking fire team, it should become a "weapons team" with heavier weapons while the other serves as the "attack team" with just rifles and grenades. The basic tactic is for the weapons team to provide cover while the attack team dashes forward. Then the weapons teams catches up lugging heavier weapons.
This means the attack team will forgo the M249 SAW light machine gun now found in all fire teams. The SAW is difficult to fire on the move, and at 22 lbs fully loaded, its not something infantrymen can dash forward and "hit and roll". This has been discussed in the pages of the Marine Corps Gazette for many years. One solution may be the M-16 "Hi-bar," a M-16 variant developed by the Marine Corps, but not yet adopted for use. It has a heavier barrel for sustained firing from a 100-round "C-mag" drum magazine. The attack team may carry a Hi-bar, but a SAW is too unwieldy. There is much criticism of the M-16 rifle and debate about the value of the smaller M-4 5.56mm carbine. Adopting a larger caliber basic weapon has merit but would take a decade and cost billions of dollars. These are important issues that are not debated here, although Stan Crist's proposal for a long 6mm round looks promising.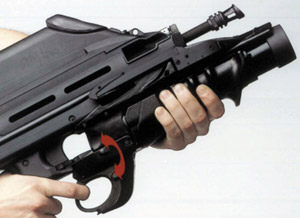 The old M203 grenade launcher attachment is due for improvement. FN Herstal developed a version that is easier to fire with a extended trigger (left) and far more accurate. A laser range finder determines the range to target and then a ballistic computer, programmed with three firing tables, automatically calculates the launch angle. LED indicators tell the shooter the aiming angle required to hit the target. An infrared laser pointer allows aiming and range finding at night. Tests have shown this weapon to be far more accurate than guessing shots with the M203.
Another option is to go back to the pure grenadier like those with single-shot M-79 during Vietnam, except use a four-shot weapon with the FN Herstal fire control. A four-shot 40mm gun firing canister rounds like a huge shotgun is a great close combat weapon. The US Marine Corps recently adopted this idea and purchased the six-shot Milkor MGL-140 40mm Multiple Grenade Launcher. (below)
Proposed Modern Infantry Squad (12-man goal; 10-man realistic)
Squad Leader - M-16 / binoculars / bullhorn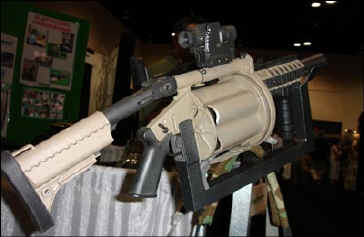 Medic - normally attached
Attack Team
Team leader - M-16
Grenadier - M-16 with M203 (or better)
Rifleman - M-16 (maybe Hi-bar)
Rifleman - Bullpup .338LM
Rifleman - M-16 (extra man)
Weapons Team
Team Leader - M-16 with M203 (or better)

Machine Gunner - M249 5.56mm SAW

Sharpshooter - Barrett .338 LM (8.6mm)

Rocker - MPIM/SRAW rocket

Rifleman - M-16 (extra man / ammo carrier)

A 7.62mm medium machine gun could be used, but it is heavy and requires two men. Light machine guns that fire the 7.62mm, like a modified M-14, have been proposed but the recoil on full automatic makes accurate fire difficult. The new MK-48 may be the answer, but that is uncertain. As a result, the current SAW may remain the best choice. The sharpshooter is not just a sniper, but can shoot through body armor, walls, doors, and cars. A .50 caliber rifle is ideal, but semi-automatic models are too heavy for an infantry squad. A bolt-action .50 cal with five rounds is light enough, but not ideal for an infantry squad.

The best sharpshooter weapon is a debatable issue, but the 15 lb semi-automatic Barrett .338 LM (8.6mm) with a 10-shot magazine is a good choice. (above) The US Marine Corps may add a sharpshooter to each squad soon after recent interventions revealed the need to engage enemy forces nestled among civilians in cities. If the .338 round enters service, it would be nice to provide a member of the attack team with something that can fire that round at close targets, like doors, cars, and body armor; a bullpup with no scope and no bipod to make it lighter and shorter, but with the penetration power provided by an 8.6mm round fired through a long barrel.

Rockers

Adding a trained rocketman, dubbed "rocker" at the squad level is a major change. When two forces meet in combat, neither is sure what they've encountered and there is fear on both sides during the first minute. If one side seems stronger, the other side is likely to flee. Erwin Rommel was an expert infantryman during World War I and wrote that during an encounter the first side to set up and fire a machine gun usually prevailed. This is why combat vets emphasize the need for maximum firepower upon contact, rather than well-aimed rounds.

Shoulder-fired rockets emerged during latter part of World War II (panzerfausts and bazookas). However, the US military considered them anti-tank weapons and still maintains this view. The Soviets recognized the shock and destructive value of rockets and developed the highly successful RPG. Veterans of the Vietnam, Afghan, and Iraq conflict will attest to the fear caused by the "swoosh and boom" of RPGs. The movie "Blackhawk Down" demonstrates the power of simple RPGs. During the 1983 Falklands campaign, the British discovered the small LAAW 66mm anti-tank rocket was extremely effective during basic infantry combat.

Nevertheless, American infantry units rely on machine guns for platoon level firepower and keep only a few rockets in reserve at the company level, although most US Army platoons have a weapons squad with two rockets. As a result, when squads and even platoons make contact they have no powerful firepower to employ. Firefights often become jack-in-the-box shootouts as infantrymen exchange small arms fire for several minutes until supporting fires can be arranged or heavy firepower brought forward. During this critical phase, wounded suffer, the enemy can maneuver or flee, or may advance and overrun the unit.

Therefore, it is critical that each infantry squad has a rocket that can "swoosh and boom" during the first few seconds of contact. Since they are heavy, rockers may only carry one round. However, if a platoon makes contact with an enemy and immediately pounds them with three big rockets; the psychological effect is tremendous. This firepower implies, "You see that, get ready for more!" Keep in mind that a 40mm grenade delivers a half pound of firepower, while a typical rocket delivers 30 times more BOOM!

An enemy is unlikely to know the platoon has no more rockets or they may be too shocked to even care. If they only have rifles and machine guns, they are likely to flee before more "BOOM" can get them. Well constructed machine gun nests are formidable since they are difficult to destroy with mortars and even artillery. However, if a rocket blows one apart just ten seconds after a shootout begins, nearby machine gunners are unlikely to wait for their turn. They will also find highly accurate .338 rounds zipping through their walls and vision slots annoying.
There are several rocket choices. The 20 lb disposable MPIM/SRAW (left) is a seems good or the Carl Gustav recoilless rifle. The simple RPG is another option. The rocker may carry an M-16, or only a pistol since a serious firefight will produce seriously wounded men in his squad whose weapon he can grab. In some urban warfare operations, he may dash one block to the rear and return with more rockets.
Perhaps other members of the squad will carry extra rockets or machine gun ammo, which is another reason to have the extra fire team members. Weapons like the MPIM/SRAW can be fired by any infantryman, but a rocker ensures that a well-trained expert is on hand and anxious to fire. Once enemy contact is made, everyone in the squad will eagerly await the "BOOM" of their rocket. Even if nothing is hit, they know the enemy has lost enthusiasm for a fight.
Despite the "Revolution in Military Affairs" US military squads and platoons still rely on light machine guns for serious firepower. Modern squads must carry heavier firepower in the form of heavy caliber rifles and rockets for immediate employment. The US Army platoons with a weapons squad should disband them and organize into three larger and lighter squads as described here. Since key battles in future wars will take place in confined cities, infantry squads must modernize with a variety of weapons with more "BOOM" and fewer "bangs."
©2015 www.G2mil.com