Swords were replaced by pistols as symbols of military leadership. Pistols are rarely used in combat because they have limited utility. A far more effective compact weapon is a 40mm pistol. These simple, lightweight, single-shot, multi-role weapons are now for sale on the civilian market for just $60 each. This is just a shorter version of the M79 that was very popular during the Vietnam war. The US military's current M203 is also made of aluminum, so there is little difference with the Airsoft "game" pistol pictured, if any. The kick is big, so two hands should used. Since the barrel is half as long, velocity/range is cut in half but still far more than a pistol, and recoil is less than the M203 since a shorter barrel allows more gas energy to escape.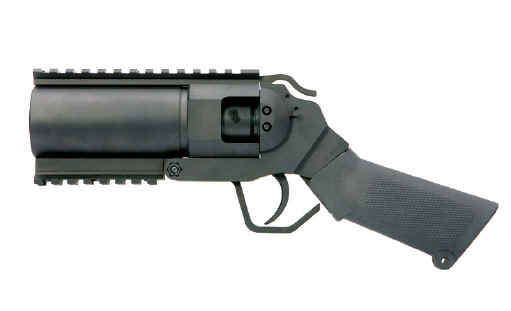 For close encounters, a 40mm buckshot round is extremely effective and far more likely to hit a target with the first shot. In urban combat, this pistol could fire explosive grenades down a hallway or through a window. They can fire HEDP rounds to blast open doors or cars, or to punch a hole in a light armored vehicle.
The variety of 40mm rounds allows them to fire signal or illumination flares. In non-combat roles, they can fire a beanbag round to knock someone down, or tear gas to disperse crowds. While they are larger than military pistols, they are lighter, more intimidating, and far more useful for a variety of roles.
From Wikipedia:
According to the U.S. ARMY FIELD MANUAL FM 3-22.31 40-MM GRENADE LAUNCHER, M203,[6] there are 8 different rounds for the M203:
©2016 www.G2mil.com