The U.S. Army made progress this year in restructuring its forces. After a five year delay, it finalized plans for the deactivation of two "heavy" armored brigades in Europe. It is unclear if this was the result of competent Generals, or orders by irritated civilian leaders. Germany was a poor location for these units since there are no large, open maneuver areas for unit training. The Army's two primary training areas in Germany are at Grafenwoehr and Hohenfels, which are forested areas along the Czech border with limited off-road access.
In recent years, the Army learned that armored brigades from the USA can deploy to the Mediterranean and the Middle East faster than those in Germany. Over 95% of an armored force must deploy by ship, so those in Germany are shipped by rail to northern German ports, then all the way around Spain and into the Mediterranean. One might assume they could deploy by rail or truck southward, but they cannot cross the Alps as several tunnels are too narrow and several bridges too weak for outsized equipment like M-1 tanks.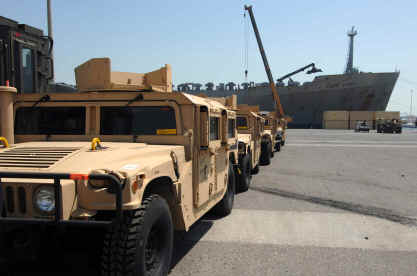 Deploying around the Alps requires cooperation with several nations with different gauge rail systems. They charge high fees and American trains can use rail lines only when not used by commercial rail. Once troops reach Mediterranean ports, units must embark at ports already crowded by normal commercial cargo traffic. All this assumes that each nation's government and rail and port unions approve of the American military deployment.
President Bush had ordered these two brigades moved back to the USA, and new facilities were built to accommodate them. However, Army Generals delayed and waited for the Bush team to exit. After the Obama team arrived, the issue arose and after more games, someone ordered these two brigades disbanded as the Army downsizes after the Iraq conflict. However, Army Generals have no plans to close the two bases in Germany that host these units; Grafenwoehr and Baumholder.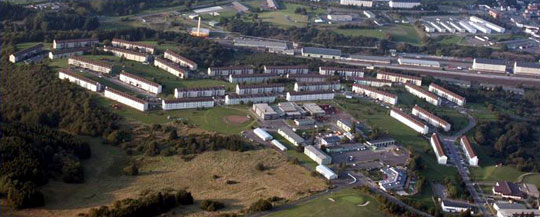 The base at Grafenwoehr is part of a large training area that supports the only remaining combat brigade in Germany, the 2nd Stryker Cavalry Regiment at nearby Vilseck. However, there is no need for Baumholder after its 170th brigade cases its colors this October. Baumholder (pictured) has old facilities and was scheduled to close by 2013. The Army now plans to spend a half billion dollars to rebuild Baumholder over the next few years, so many powerful businessmen were upset when the deactivation of the 170th brigade was announced last February. So was the Army's top General in Europe, LtGen Mark Hertling, who quickly assured Baumholder's mayor, who is an old friend, that he would keep the base open along with its $200 million in annual American taxpayer funded spending.
A month later, the Pentagon told Congress that it needed to close some domestic military bases due to force downsizing. Many Congressmen responded by noting there are excess bases in Europe that must be closed first. Senator Claire McCaskill (D-Mo.) asked during a Senate Armed Services Readiness and Management Support Subcommittee hearing on the European Command plans: "Is it considering closing Baumholder?" The Pentagon responded that it would consider further reductions in Europe.
Meanwhile, Army Generals announced that it would quickly move its 16th Sustainment Brigade headquarters and one support battalion to Baumholder to justify its existence, albeit with just one-third as many soldiers. This means the Army will spend millions of dollars a year in base operations costs, mostly for the thousand Army civilian employees and contract personnel (nearly all German citizens) to support just one thousand American soldiers. One must assume that the Army's half billion dollar Baumholder reconstruction plan is back on track to rebuild this decayed base, which American GIs nicknamed "the ghetto."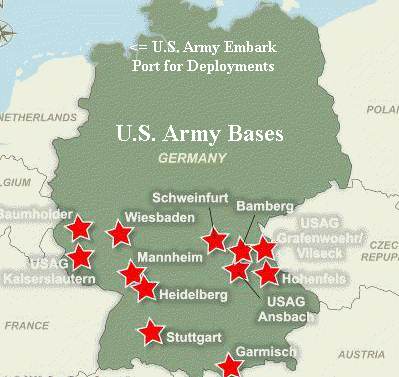 Civilian leaders must quickly intervene to save taxpayers millions of dollars that our Generals will use to move half of the 16th Sustainment Brigade to Baumholder to keep the base open. Baumholder is a horrible location for sustainment units. That brigade is organized to provide logistics support to several combat brigades, yet the Army will only have one combat brigade remaining in Germany, located on the other side of Germany at Vilseck, 240 miles away! Moreover, no one expects that single combat brigade to fight in Europe; it's just a symbol of an American commitment to NATO.
Civilian leaders must order Baumholder closed within a year. The Army can downsize or disperse the 16th Sustainment Brigade soldiers that it wants to shift to Baumholder. Most of the brigade operates from Army bases throughout Europe, sustaining other units. The Army plans to retain 37,000 soldiers in Germany, yet only 3000 will belong to a single combat brigade. It is obvious that the Army needs to shed overhead in Germany, and the Baumholder garrison is the obvious place to begin.
The 16th Sustainment Brigade headquarters and one support battalion displaced from closing Bamberg could move to Grafenwoehr, where one its battalions already exists. Since Graf's heavy brigade is disbanding, there is plenty of vacant space. At that location, the 16th could support the nearby 2nd Regiment and battalions and brigades from the USA that rotate there for a few weeks of training. Another option is to move more of its soldiers to the Army's only useful logistics base in Europe, Camp Darby in Italy. That base has large warehouses full of equipment and supplies with easy access to a large Mediterranean port.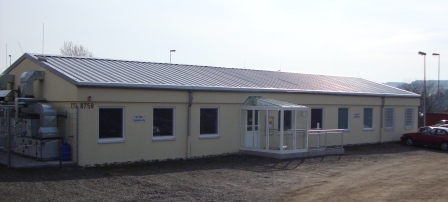 Generals often need civilian supervision, especially when saving money is required. Halting their shell game to keep Baumholder open is an great example. There is no need to keep old Baumholder operating as a city with services for 12,000 people in a very high cost area, with overhead like its veterinarian clinic (pictured). Generals hate to close "their" bases, where they have friends and fond memories. American civilian leaders assumed that forcing the Army to disband two unneeded heavy brigades stranded in expensive Germany would result in the closing of their home bases. Keeping Grafenwoehr open is understandable, but the covert effort by Army Generals to save Baumholder from closing is a great example of government waste.
Carlton Meyer editorG2mil@Gmail.com
©2012 www.G2mil.com
Aug 2013 Update - Saving Baumholder
Amongst news of "drastic" budget cuts and major downsizing, Army Generals are quietly spending millions of dollars to rebuild this unneeded base and developing plans to move new units there.
Apr 2016 Update - Back from the Brink
Army Generals waste hundreds of millions of dollars to keep unneeded Baumholder open.